9:30 SUNDAY SCHOOL
"Facing life without worry"-led by Danny Weaver
10:30 WORSHIP Service
First Sunday of Advent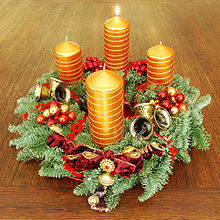 We Gather
Prelude
Gathering Song
Announcements
Call to Worship
Opening Prayer
We Praise
Congregational singing
Offering
We Hear
Old Testament Reading: Isaiah 64:1-9
Children's Time
Scripture Reading: Mark 13:24-37
Message: "A Plea and a Promise"
We Respond
Congregational Sharing/Prayer Time
Closing song
Benediction

*Song leader: Lowell Wenger
*Worship leader: Susan Huyard
*Message: Kevin Gasser


Announcements
The Mennonite Women of Staunton's annual Christmas party will be December 5th at Now You're Cooking located in the old Staunton High School. Men, make sure to save the date for some holiday activity (i.e. food) as well.

You can still order copies of the upcoming Festive Flavors: Holiday Favorites from the Regions of Virginia Mennonite Conference, a cookbook that will share the delicious holiday specialties of persons throughout VMC. Order and pay online at www.vmconf.org.

We are working to update our online directory. Please go to mennochurch.net/members to make sure that your contact information is up-to-date and accurate. If not, please email any changes to adstrickland@gmail.com.
Please Prayer For:
A.J. Jones as he heals from a broken arm.
Nelson Blosser as recovers at home following hip replacement surgery.
Those traveling during this holiday season.
Isaiah 64:3, "For when you did awesome things that we did not expect, you came down, and the mountains trembled before you."

---
Thank you for joining us in worship today. If this is your first time at Staunton Mennonite,
please fill out the "Welcome" card in the back of the pew and place it in the offering plate.
---